A clip Sacha Fawkes shot on our trip down the Western Australian coastline 2012. I am almost finished my first year of the Master of Teaching course I am completing. More news on recordings, performances and workshops soon!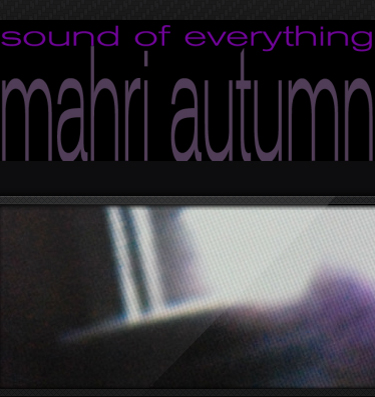 Take a listen to my new ambient, piano, spoken word piece 'sound of everything' HERE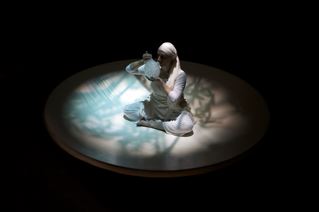 an ongoing project

music, dance, film, installation, sound design
creating spaces to trans – form in
7.30 pm : 24th of March : Thirning Villa : Ashfield, Sydney
………..
sound- form- movement
ancient traditions – new technologies
improvisation – consciousness – integration
creative collaboration – shared visions- collective action
…………
Phase 1 : installation mode : a number of different spaces will be set up with sound and vision- One of these will incorporate live sound and vision making featuring resonating vessels made by key collaborator installation/glass artist Ruth Allen.
Phase 2 : performance mode : the performance of a number of my songs and a piano piece, with accompanying projected images and special guest musicians, including the wonderful Noah Hampson and Kevin White.
Phase 3 : improvisation/ jam mode : with as many of my improvising collaborators who are in the mood : )
Read more on the project HERE
A compilation of instrumental works created for theatre, dance, film and installation works 2000-2010. Listen and buy from Bandcamp : ) Cleaning out the sonic cupboard feels good : )

For more photos of Thirning Villa check out my Flikr sit here.
I am artist in Residence through Ashfield Council in Sydney at the historic house Thirning Villa until the end of March.  If you have ever had a desire to chew the fat with me about art, music, dance, what it means to be an artist. If you have ever wanted to sing, dance, play and create in response to ideas about the relationship between sound, form and movement. If you are interested in improvisation, collaboration, performance as emergent epistemologies, traditional eastern performance modalities, contemporary media arts practice, creativity as a fundamental way of being for all not some……..then…. come and explore with me….. I am drawing up a plan now with a series of events…. atleast some of it will happen online so you can still participate from a distance…… Looking Forward to exploring 'The Sound of Everything'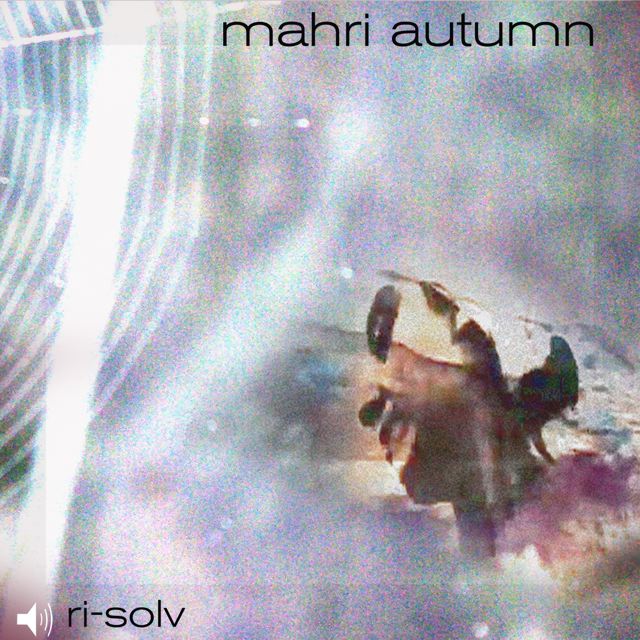 My first album ri-solv under the project name Mahri Autumn is now officially OUT ! Available in Mp3 format for download (as a gift but feel free to donate so i can do more) Available at CD Baby in hard copy and Mp3 form and also at I tunes. If you know me you can also just grab a copy from me. (That's if you are old fashioned like me and like to hold things in your hand.) It comes with a 16 page booklet. Click here to go to Audio Narcissist which I have set up to distribute my music (and maybe some other peoples as time passes). There are also videos and bios, photos etc at www.mahriautumn.com
There are two more releases in the wings and about 20 in my mind so………. here begins….. release… release…. release… release
I joined soundcloud today. Yet another way of finding, listening to and downloading music. I mean really.. it does my head in how many music sites there are now. Soundcloud seems kinda cool, i like the players. It seems i now have yet another cyber identity, my label self, Audio Narcissist. I shall write more on ideas associated with being an audio narcissist soon. A sonically obsessed intermediary between form and sound… Silently exploring the inner crevices of my sonic frequencies. There is something very visceral to me about the idea. The mythology and history of the Narcissus story fascinates me. Solo digital recording is the sonic equivalent to looking at your reflection in a pool. There is much to be learnt from sonic reflection. Oh and this track ( Samsara below) in many ways marked the end of the process of creating the album ri-solv. It is made up of the beginnings and ends of tracks and is a meditation on death, life, acceptance – gain and loss, beginning and end, dualities of all kinds are quashed in ri-solv. There is no more either /or in ri-solv. Samsara the concept of the wheel of life, the fabric of human reality, the veil of illusion… reflects a similar notion. Everything is as true as everything else. or not………but then… (just kidding) : ) Oh and if you like this track feel free to download it, embed it, torrent it, have your wicked way with it in which ever way you choose. i'll be happy if you just give it a listen.
09 Samsara by audio.narcissist
My first video for" Jack" is being featured as part of the Metropolis Art Prize on Babelgum.

Check it out here and vote so they send me to New York : )
Photo : Sound checking at Mt Kembla with little girls hanging close. Love that look in their eyes. The one that says " hmmmmmm women don't play drums like that on TV??? "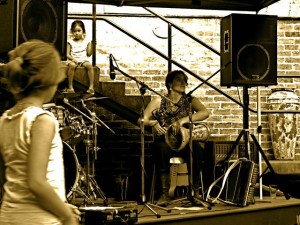 It was a warm sublime afternoon. The orange sun traversed the forest wrapped mountains and settled on our smiling faces as it gently dawned on us that perhaps we were indeed a community. A group of people with shared concerns, inspired by the creative juices that swim amongst us, jointly developing regular means of spending time together and collectively striving for a more sane, sustainable and meaningful existence. Of course later that week it was discovered that we hadn't drunk enough alcohol to make the pub happy with us. Ahhhhh well. Time to organise some gigs in local halls.