Choreographer / Dancer Annalouise Paul commissioned me to create a 30 min recorded work for FORGE. Piano, vocals with Helen Rivero, percussion and sound design.
I released this single but didn't actually tell anyone about it.
I recorded this piece as part of an artist in residence at the Vancouver Arts Centre. As the day gradually fades I lull myself into a slower, more relaxed state. Through improvisation, being in flow in imperfect moments of life, we remember that life may be flawed but connecting with the inner structures, rhythms and messyness can uncover a beauty which is impossible to find through a planned, rational grid like structure or process. Being creative, for me, is a process of moving from one state to another. By documenting my own change of emotional state I hope to create a means through which you may experience a similar pathway through watching and listening. This then is not a product to be bought and sold but an experience which can be shared. This piece will be embedded within the physical space it was created by leaving a QR code at the site. For more information go to our artist in residence website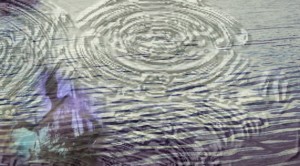 I will be artist in residence at the Vancouver Arts Centre in collaboration with Sacha Fawkes and a diverse array of invited creative thinkers from mid Nov – Jan 2015. You can watch the process of the residency unfold at the residency website
http://artistsinresidencealbany.weebly.com
Last month I performed and spoke at the Centenary Trust for Women's Gala Lunch. It was a great opportunity to speak about my academic journey over the past two years. I now have 7 weeks left of my course. Here is hoping 2015 will hold even more opportunities to develop ways to integrate ancient oral traditions into vibrant contemporary educational practices! Click on the image to resize so you can read it 🙂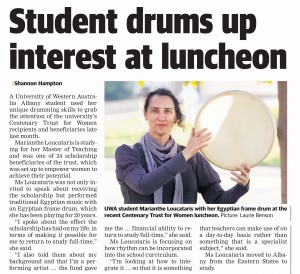 This year in Sydney, the below multimodal video piece, with music, words and visuals – was exhibited as part of the 10 Year Anniversary of the Ashfield Artist in Residence program. Was great to be present without being present 🙂
After a wonderful East Coast Tour, offering Hilal Dance and Egyptian drumming workshops, I have returned to Albany, WA. My workshop tour began in Milton and finished in Mullumbimby. Such beautiful country and such wonderful dance and drum communities! I will be completing my Master of Teaching through the University of Western Australia and teaching the first ever classes in Hilal Dance in Western Australia. Looking forward to new discoveries and development in all areas. If you click on the poster below it will resize so you can read it 🙂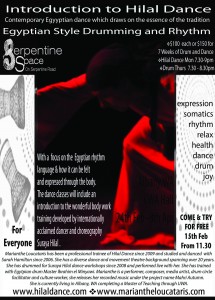 A clip Sacha Fawkes shot on our trip down the Western Australian coastline 2012. I am almost finished my first year of the Master of Teaching course I am completing. More news on recordings, performances and workshops soon!