hmmmmmm really ? Over 500,000 people have watched my drum clip on You tube? I am in the process of making more clips and developing easy digital formats for people to learn the teaching methods i have come up with. They are a kind of translation of the Egyptian rhythm language i have learnt from Ibrahim el Minyawi : Translated into little pieces and training methods that work for people who have not been born into the tradition. He really is the most gorgeous player i have ever come across by far! Here is the example of my playing.
I recently worked on a project with Glass/Installation artist Ruth Allen. She made me a 'resonating vessel'. A glass vessel based on the idea of playing resonance percussively. The vessel is sung into and then i use my hand to shape and play with the resonance. We had the chance to explore the idea for her opening at the Glassworks in December. I did some movement/performance as part of it too as well as doing the sound design/music for the installation. Below are some images from it taken by Angus Kendon. I am looking forward to developing the project further.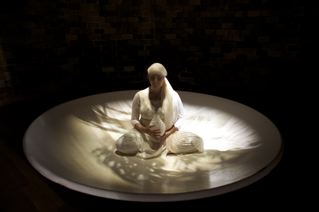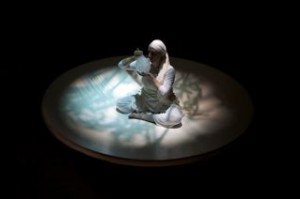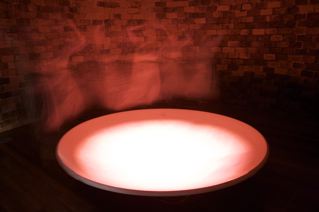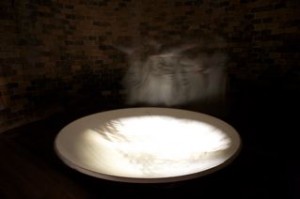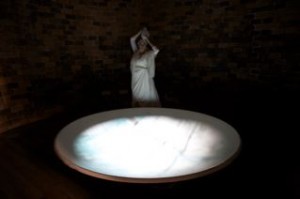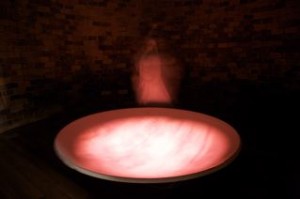 Quite a number of my instrumental pieces and some songs are being used in this exhibit by collaborator and friend Sarah Moss at the Powerhouse museum this month. I also designed a surround sound soundscape to go with it. Check it out if you can.
I have posted some reviews of my album here.
And my video for Skin which I edited, shot, animated and choreographed dance for will be featured on Skope magazine's web site this month.

This is a clip off my phone. An installation piece I did the sound for, with artist Ruth Allen, at the Frankston Arts Centre. It is in a window box display and can be seen by the car focussed culture who drive past. The sound was an accidental throw together of the sounds: from the street including some very well timed truck noises, the sounds that were actually being pumped onto the street of mine, plus an overlay of some of the sounds i did for the installation (bowed piano) and a layer of Brian Siskind's (FOGNODE) lap steel to top it off. He has a gorgeous EP, all lap steel, called "porch music" check it out HERE
There is a lot of dissonance going on in this accidental 3 min phone vid mix job …but somehow in a rather soothing way.
My first album ri-solv under the project name Mahri Autumn is now officially OUT ! There are also videos and bios, photos etc at www.mahriautumn.com
There are two more releases in the wings and about 20 in my mind so………. here begins….. release… release…. release… release
This track marked the end of the process of creating the album ri-solv. It is made up of the beginnings and ends of tracks and is a meditation on death, life, acceptance – gain and loss, beginning and end, dualities of all kinds are quashed in ri-solv. There is no more either /or in ri-solv. Samsara the concept of the wheel of life, the fabric of human reality, the veil of illusion… reflects a similar notion. Everything is as true as everything else. or not………but then… (just kidding) : ) Oh and if you like this track feel free to download it, embed it, torrent it, have your wicked way with it in which ever way you choose. i'll be happy if you just give it a listen.

My first video for" Jack" is being featured as part of the Metropolis Art Prize on Babelgum.
Check it out here and vote so they send me to New York : )
An animation by my nephew Alex Ristevski with music and sound composed and edited by me.
DYNAMIC GLASS INSTALLATION 4D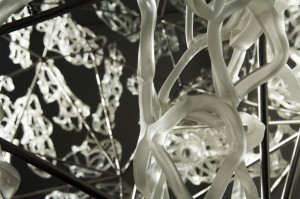 Excellent to reconnect with talented and visionary glass/installation artist Ruth Allen this month through an installation at the Frankston Arts Centre in Melbourne. I have sent down 3 sound pieces which will be pumped out onto the streets of Frankston. Two are old pieces written for other projects but which suit the nature of the work and one was designed especially for this installation using sounds made by playing various bits of Ruth's glass work. Here are some snippets of the sound.
orb3short-1 orb3short-4
orb3short-7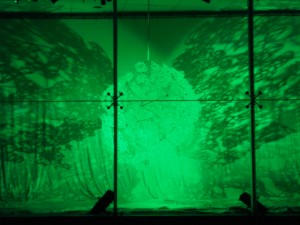 For more information on Ruth Allen's work go here.
You can also see some video snippets of our previous collaborations under the name GENERATE with dancer Tammy Meeuwissen. Look under video section for "the dome" & "SKIN-LESS" here. It is a flash site with video and audio documentation of my collaborative cross artform work 1998-2008. It takes a few minutes to load but its interactive and fun to explore.
It has always been a delight to collaborate with Ruth Allen as her mind is a fire of ideas and she is a powerhouse in terms of manifesting the unlikely verging on impossible. Working with her creatively is working magic. Bringing the underlying beauty, asymmetrical complexity and resonance of the world to the fore for all to see. She also introduced me to Buckminster Fuller whose ideas and work have always been a great inspiration for us both.
We will be doing a "meet the artist" event on the 21st of February. Love Melbourne!