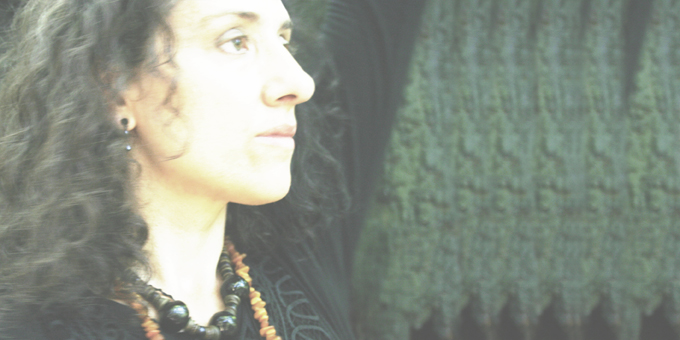 'Your music is brilliant, full of winds and messages of the soul! Excellent!'
Giogos Dimitriadis
'The sensual, otherworldly soundscapes found on Mahri Autumn's Ri-Solv reveal plenty about digital-era music-making: while the bulk of the album was crafted by Autumn in her Wollongong home studio, embellishments were added by Brian Siskind, in New York, without actually meeting the gifted Ms Autumn. He also mixed the album. And if it's indeed possible to sound familiar yet new at the same time, Autumn has achieved just that, as she channels such timeless voices as Linda Thompson and Sandy Denny, while simultaneously nodding in the direction of 21st century free spirits Ani DiFranco and Sarah Blasko, amongst others.'
—Jeff Apter, author of A Pure Drop: The Life of Jeff Buckley
mahri autumn is the project of multiinstrumentalist, singer songwriter and composer  Marianthe Loucataris.
I  am an artist who works with music, dance, new media and installations. I have collaborated with lots of people in the independent music scene, theatre, dance, art and film.
My band work includes 4 years with J Walker and machine translations, including national and international touring, as well as countless bands in various roles.
I studied traditional Egyptian percussion with drum master Ibrahim el Minyawi in London. I continue to play and teach this intricate and beautiful form of rhythm. These rhythms inform the basis of my music. See www.drumming.mariantheloucataris.com for more info.
I have also worked extensively as musician/composer/performer for theatre, dance and multimedia work. See www.mariantheloucataris.com for more info.
I work as a Community Cultural Development worker and believe in the importance of the arts being used as a means of  creating and maintaining a healthy and meaningful human culture of peace, equality and beauty. I am currently working with young people in disadvantaged schools, at risk young people especially from non english speaking backgrounds, people suffering from mental illness, people with disabilities and the general community. For more information see www.mariantheloucataris.com
Short  listed for the APRA professional development awards in 2009.
Listed in a prominent music licensing library in the U.S.
Featured with my first video on the Metropolis ArtPrize on Babelgum.
Extensive airplay including ABC Radio National, community radio stations around the country and blogs internet radio all over the world.
Click HERE for reviews.
Almost 500,000 hits on the you-tube channel.
Selected GIGS
Illawarra Folk Festival
Viva La Gong Festival, Wollongong
Music @ The Creek Festival. Majors Creek NSW
Earth Festival Centennial Park, Sydney
Illawarra Folk Club, Diggers Club, Wollongong
Wombarra Bowlo, Wombarra
Choreographic Centre with Hilal Dancers Sarah Hamilton and Rachael Hilton, Canberra
The Grosvenor Hotel, Waterloo, Sydney
Wedding Gig | Kiama
(A wedding procession with drums and horns. A romantic accordian set and then an upbeat latin drum section with audience participation!)
with Machine Translations at Rydges CBD sports bar, Wollongong
The Ryans Hotel with BIG ERLE, Thirroul
Master Builders Club, Wollongong
Sidetrack Theatre- Featuring dance by The Mozaic Dance Co + music by The Chameleon Collective Marrickville, Sydney
Acoustic Lounge @ The Ryans with Paul Greene, Thirroul
Ryans Hotel with Big Snore Hammers & Big Erle , Thirroul
Acoustic Lounge @ Ryans Hotel suppporting Frencham Smith, Thirroul
Bulli Heritage Hotel with DONNY, Bulli
Headlands Hotel |Poetry Night 2, Austinmer Headland
Acoustic Lounge @ the Ryans Hotel, Thirroul
Mt Kembla Festival
Musicians and Singersongwriters, M.A.S.S hosted by Michael-John Azzopardi at St Andrews Church Hall, Balmain, Sydney