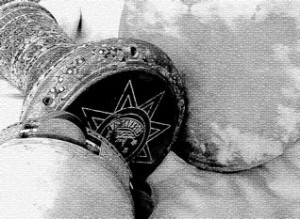 Term 2 – 2010 will run with the school terms
Starting the week of the 19th of April and running to the week beginning 28th of June
Wednesday and Friday ongoing groups in Unanderra and Woonona
Mondays at SOL STUDIOS : Hilal Dance Class 6.30pm- 8pm DRUM 8pm-9pm
Send me a message if you are interested in any of these and I shall give you details.
Private individual and group sessions are also available at a time to suit you.
These can be ongoing or one offs. I can provide as many drums as you can find people! If its a HUGE group I can put together a team of percussionists, dancers, facilitators. What ever the occasion needs : ) Call me on 0412 177 918
I am also working 2 days a week in disadvantaged schools running drum circles through
The Song Room
I recently conducted workshops for International Women's day and one for Psychologists interested in using rhythm and drumming as part of their work with people recovering from abuse. Great to get a chance to pass on some of the mechanisms I have developed over the past 14 years.
Slowly but surely I am working on ways of communicating and making what I have learnt/developed more accessible to people. I am starting work on a Drum CD and learning tool as well as a written resource for community work.
The more I work on it the more I realise that there is a lot more than drumming involved in the work I am doing. Communication is paramount, self expression is paramount, tools for collective creative action is paramount and the one that I have been thinking about alot lately is… POWER IS PARAMOUNT. Drum circles allow you to explore elements of real anarchy. Not anarchy that refers to a violent, nasty, chaotic, frightening experience. But Anarchy which refers to a natural shifting of power around a group. Allowing for each person to express themselves freely within the confines of a safe structure that ensures continuity and a moving between group unison work and solo sections. I will write more on these ideas when I get the chance. Its a really interesting way of talking about different power structures and pedagogical approaches. I am far too often seeing VERY top heavy models of pedagogy at play in the school system. Control based on fear and the constant threat of humiliation completely destroys the ability of a child to think for themselves or to feel confident in expressing themselves freely. PUBLIC EDUCATION NEEDS MORE RESOURCES NOW! and on that note………
Body Work and Traditional | 'Sha'abi' with Sarah Hamilton
For Men and Women of all levels including beginners
Sunday 27th September
Wollongong
11am-2pm
50$
This workshop will be an introduction to Hilal Dance bodywork and traditional Egyptian 'sha'abi' dance. Hilal Dance is fantastic for any performer interested in exploring their physical expression as well as wonderful for anyone interested in posture, yoga, breathing, getting fit and integrating body, mind and emotion.
Suitable for total beginners as well as experienced dancers from all backgrounds-
contemporary/ movement theatre to folk, cabaret and music theatre.
Contact Manthy for more info, to book and for details of venue
info at mariantheloucataris.com
Sarah Hamilton is an accredited Hilal Dance teacher and has performed
with the Suraya Hilal Dance Company in Australia
and Europe.
For more information see www.hilaldance.co.uk
and
http://hilaldanceaustralia.com.au
and
http://www.myspace.com/mozaicdance
If there is enough interest i am looking at running a weekly training session in Wollongong after this workshop.
(led by me)
Hilal Dance Workshop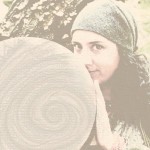 The past few months has seen me busier than ever with drumming. I am currently working with the Song Room to deliver programs in primary schools. I am using rhythm as a basis to explore creating performance material incorporating drumming, movement, words and voice. Its alot of fun and has loads of benefits for the children including | gaining self confidence, getting comfortable with 'creating' individually and as a group, learning about communication, focus, memory, self expression …..and the list goes on. Not to mention gaining a love for music and creative practice. I have begun writing a resource for the work I have developed over the past 12 years. Will keep you posted on that.
I am also in the middle of a youth project with the Cringilla Co-op in Cringilla working with 2 other arts workers to create performance material fusing drumming, dance, rapping, singing and story. We are also using working in a circle to develop this material.
Today I conducted a workshop for school councilors who were interested in having a fun way to conclude their conference and who were also interested in my work with young people from non english speaking backgrounds. They all had a great time and we discussed the means by which rhythm and drumming in a circle can help to develop emotional awareness and control, group bonding, improvement in integrated right/left brain function and of course just for fun and relaxation.
Meanwhile classes are going well Mondays and Fridays in Wollongong and occasional week-ends in Sydney.

Monday nights are cruising along so well we decided not to take a break. New and not so new drummers are WELCOME…..feel free to come along if you have more time in the holidays. It is a very mixed group from beginners… to folk who have been coming for almost a decade!
Monday 7pm at Manic Organic |  409 Princes Highway Woonona | (come around the back)
Fridays will resume on the 31st of July at the Kailash Yoga School. This class requires sitting on a cushion which is a great way to drum.
7pm Fridays| Note | We dont drum the first week every month as there is a kirtan on (Chanting/singing mantras to music). Please contact before you come to Fridays to make sure its on.
Classes are $15 & $12 per casual class $48 $ $40 for 4 or more classes in advance
Sydney Workshops and Classes
Let me know if you are interested in Sydney classes so i can keep you in the loop.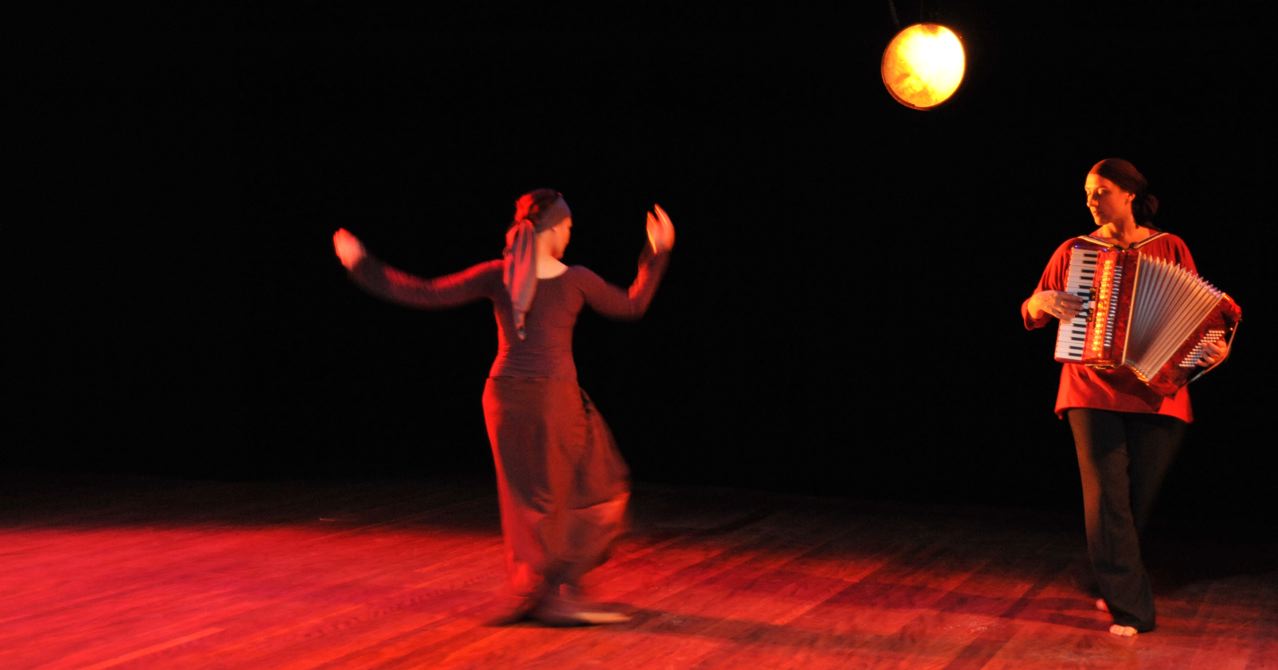 Photo's by Pedro Altuna at Mozaic Dance Co's performance of Imago, December 08
Internationally renowned dancer Suraya Hilal will be in Australia in May for a week of workshops and to perform for the first time in Australia. Sarah Hamilton and I will be performing with her.
For more information and tickets for performance click to contact Casula Powerhouse
Click here to see flyer.
For more information on the Suraya Hilal Workshop email Sarah Hamilton sarahlouise1961 at hotmail.com
For more information on the work of Sarah Hamilton and I's collaborative work see
www.myspace.com/mozaicdance

BOOKINGS ESSENTIAL FOR ALL CLASSES:
send a message by clicking on Comments below.
Monday Nights: 7pm
Manic Organic- Whole Food, Organic Food, Good Food
409 Princess Highway Woonona
(entry round the back)
………………………………………………………………………………………………….
Friday Nights : Kailash Yoga School
Also in Woonona | 7pm | Contact me for details
………………………………………………………………………………………………..
Saturday Drum Sessions in Sydney will resume this month too! They are held in Maroubra at Midday. Contact me for information if you are interested.
""""""""""""""""""""""""""""""""""""""""""""""""""""""""""""""""""""""""""'
Classes will be $15 per class casual or $12 per class if you pay for 4 or more classes in a row.
…………………………………………………………………………………………………..
PRIVATE CLASSES
$25 per half hour
$50 for an hour
these can be done alone or shared with friends
Over the past 6 months I have been working on two projects with people with disabilities. It has been challenging, fun and rewarding. It puts progress and accomplishment in perspective. When working with people with disabilities an amazing break through may amount to someone holding a drum stick for 30 seconds, or staying awake for longer than 5 mins or choosing to be in the same room as the music rather than hiding in the next room. Working in these contexts makes it more obvious than ever that our expectations of outcomes have an enormous impact on our sense of accomplishment. Its a fine line balancing between asking enough? or too much? of ourselves or others. On one hand if we expect too little there is no room for growth or transformation … boredom and mediocrity will ensue. On the other, if we ask too much of ourselves or others we can end up feeling inadequate and/or constantly dissatisfied with where we find ourselves. hmmmm…… One of the things I have always loved about drum/performance/community projects is challenging peoples perceptions of what they are capable of. Having participants successfully perform at a festival or community event and excitedly tell me how amazed they are that they actually did it, is a great feeling. I have been thanked many times by previously dubious teachers or participants when they realise that they were indeed capable of what I was asking of them. At times encouraging people to exceed their own or others perception of what they are capable of can make people feel inadequate or uncomfortable but this in the end is an inescapable part of the process of learning anything. The ability to put ones self into situations which are new and challenging is the essence of learning, growing and transforming through out our lives….. It is one of the many conundrums of life. To excel at anything or indeed to progress in anyway requires a certain amount of feeling out of ones depth and at times feeling… unable, disabled or inadequate … in this way what we experience truly is all relative. I guess next time you are giving yourself a hard time about not being good enough at drumming, spare a thought for some of my drummers who are doing well on the days they can manage to hold a stick or get there hands to flatten out enough to hit a drum once…..
I logged in, not to write an essay about learning, but to post these photos of recycled drums which we made as part of one of the disability projects. I am really happy with the design. They were designed to be light, easy to transport have no sharp or dangerous bits and be generally difficult to break or hurt anyone with! These requirements are useful in many community drum making projects. The plastic bins have holes drilled in the bottom and around the sides. They are strung like a traditional African djembe. The skins are made out of banner material. All materials were sourced from Reverse Garbage in Marrickville except for the rope and the hole making set. The holes are reinforced with canvas and gaffer tape to stop tearing.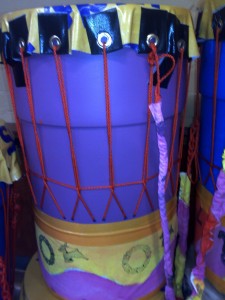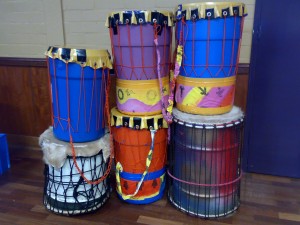 and here is a segment of the banner we made as part of the project. It is made up of triangles which represent what the clients favorite things are.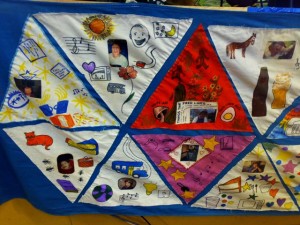 I have started a Thursday evening drum session in Bulli 7 till 8pm. Message me through here if you would like more information. There are regular sessions on Saturdays in Sydney too. Again just let me know and I can send you information.
Thursday the 2nd of October will see Mahri Autumn & The Chameleon Collective playing at the Ryans Hotel in Thirroul. (Upstairs with the leather lounges) I play too many instruments in this band. Vocals, guitar, accordian and drums. I will be joined by more percussion from Pedro Altuna on bongos, durabuka and things that go shake, Annalise Friend on box drum and vocals and Henry Lauer on Bass. I am really excited that Michael- John Azzopardi, Sydney based wonderful guitarist and singer/songwriter will also be playing. Check out our music with these links. . . www.myspace.com/michaeljohnazzopardi and www.myspace.com/mahriautumn

To contact me,  ask any questions or if you have any thoughts on drumming please feel free to click on any of the comment links below the posts.
« Previous Page
—
Next Page »